This week's HTPOW challenge is about the following tasks: Can you engraving a Halloween pumpkin and use light to create a glowing effect? To kick off season 2 of The Mandalorian, we thought we'd have a laser challenge featuring one of the show's most beloved characters: Baby Yoda, carved into a pumpkin.
Due to its thick shell and high water content, fully cutting a pumpkin might not be the best application for a laser engraver ; however, carving it is definitely doable (and super popular!)
Here we'll walk you through the steps to create your own custom jack-o-lantern and complete the awesome laser engraving design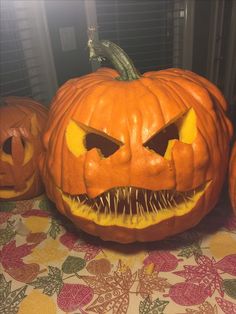 Once you've modified the artwork to your liking, it's time to sculpt. Start by finding the flattest area on the pumpkin. Manually focus the laser between the highest and lowest points of the specified engraving area. You'll want the laser to stay as focused as possible, so you may need to shrink the design to fit in a smaller area. We are using a Sculpfun laser engraver. Use whatever material you have on hand (modeling clay, wood blocks, etc.) to support your pumpkin in the laser so it doesn't roll during the carving process. We used some small wooden blocks.
Manually focus the laser to the center point of the engraving. Next, run the vector outline (remember to turn on the red dot pointer and keep the lid open) to make sure your position is where you want it to be. Once satisfied, send the job to the laser, press start and you're done!
We chose a Sculpfun S10 laser engraver with the 10 watt option for this project, it might work even better with a Sculpfun S30 Pro Max!
Interested in learning more about laser engraving from HTPOW? Please go to the HTPOW website to browse the pages you are interested in, or feel free to contact us if you have any questions. The contact information is at the bottom of the website.