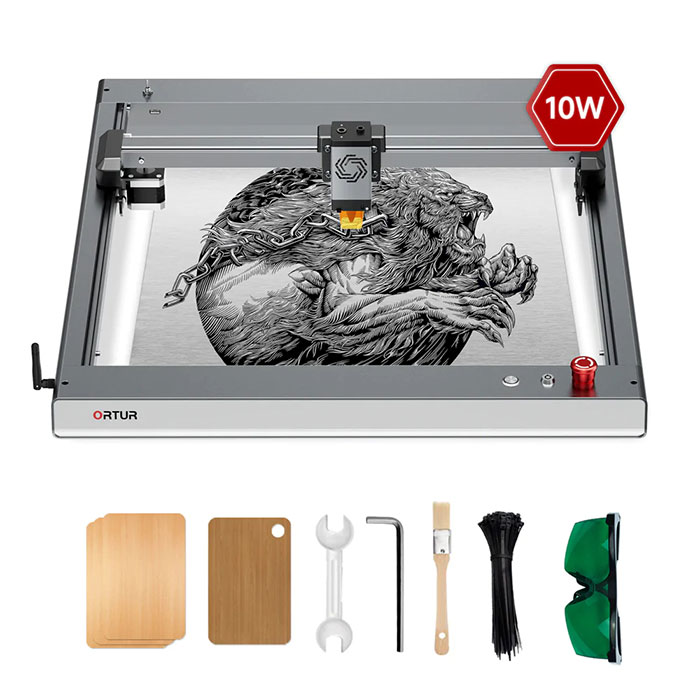 Laser industry expert Ortur officially launched its long-awaited Laser Master 3, and cooperated and promoted with HTPOW, so that more people can get and use this latest flagship product of Ortur, so that good products can be known and used by more people
"Imagine it, design it, make it!" As a well-known company in the laser engraving industry, Ortur has always been committed to providing users with excellent creative solutions, and its laser engraving machines are very popular.
The company's Laser Master 2 recently sold more than 150,000 units worldwide. It took Ortur a year to go from Ortur Laser Master 2 to Ortur Laser Master 3 - so what are they doing?
What surprises will the new Ortur Laser Master 3 bring? We'll walk you through the changes!
History of Ortur
For those of you who don't know Ortur, here's a brief history to give you a quick overview of this young and accomplished company:
March 2018: The Ortur brand is established
June 2018: The world's first built-in dual-axis linear guide 3D printer - Ortur4 released
March 2019: The world's first 32-bit diode laser engraving machine motherboard-OLM1.0 was released
October 2019: The world's first 32-bit diode laser engraving machine Laser Master was released
July 2020: First month of production of Ortur laser engravers exceeds 10,000 units
June 2021: Ortur Laser Master 2 Pro laser engraver (for manufacturers) released
October 2021: Sub-brand Aufero releases the first entry-level laser engraving machine Aufero Laser 1, which is designed to teach beginners and let ordinary people experience the joy of laser engraving
May 2022: Ortur APP Laser Explorer version 1.1 released
June 2022: Release of the third generation laser engraver Laser Master 3 Smart Laser Engraver
What did the Ortur marketing team do during the year?
As can be seen from the development history of Ortur, the company has the ability to continuously and rapidly evolve, and its continuous evolution direction matches the growing needs of consumers.
After the Laser Master 2 Pro was released, the response was not as enthusiastic as the Laser Master 2, and the marketing team realized that Ortur needed a new breakthrough. As more and more regular users start buying laser engravers, Ortur needs to understand their needs in order to gain more market share.
Ortur's marketing team carefully organizes and summarizes customer feedback. In addition, the marketing team proactively contacted a number of customer representatives to conduct in-depth market research. Based on the market research data, the marketing team and the R&D team developed a plan. And cooperate with many well-known websites and companies to jointly promote and operate the latest Ortur Laser Master 3.

What did the Ortur R&D team do this year?
Faced with a 67-page market research report by the marketing department, Ortur's R&D department was both anxious and excited.
If these pain points are to be solved systematically, the R&D investment will reach tens of millions of yuan, and the R&D team needs to be tripled.
In addition, to fully overcome these technical points and integrate them into the new generation of laser engraving machines, it will take more than one year of research and development cycle.
But if they do, Outur's new laser master will be unique.
In the end, Ortur held a general meeting and quickly decided to increase R&D investment to meet the new needs of customers.

Increasing investment in R&D is not just about hiring and spending money. The hardest part is that Ortur was very efficient when there were only 10 engineers in Ortur's R&D team, but when it grew to more than 40 engineers, they found that our engineers were spending more and more time communicating.
Ultimately, by introducing the IPD (Integrated Product Development) model invented by IBM, Ortur ensured continuous and efficient R&D.
What has the Ortur supply chain team done over the past year?
For the supply chain team, such a breakthrough product also brings great difficulties to material procurement, especially some special customized materials require special cooperation between Ortur and suppliers, and this kind of research and development is in cost, time and results. There are uncertainties.
Sometimes Ortur has to work with several suppliers at the same time, coordinating joint research and development of a material, to ensure that there are different solutions and to select the most suitable one.
For example, for a 10W laser module, the core parameter requirements given by the marketing team are that the optical energy density must be more than 1.5 times that of the ordinary 10W laser module on the market, and the weight must be less than 250 grams. Compared with the ordinary 10W module, the weight exceeds 400 grams.
Not all laser module suppliers can meet Ortur's specifications. With most of the laser modules on the market being very heavy, Ortur had to work with our AVL supplier to develop a 10W (high optical power density) laser module weighing only 250 grams to ensure high power without sacrificing engraving speed and stability.
With higher costs, multiplied efforts, and enough time and patience, Ortur's supply chain team has done a great job.
What the Ortur production team has done over the past year
In order to let consumers get stable and easy-to-use products, the production team takes the rigorous and meticulous PMC department as the brain, the professional and reliable engineering department as the heart, the diligent warehousing and logistics department as the blood, and the serious and fair quality management of the immune system. department.
In this organizational management system, the most important thing is to break down the barriers between departments, let each department in the team communicate efficiently, cooperate actively, discuss problems case by case, and finally present the results perfectly.
None of this happened overnight. Ortur's production team has gone through 4 years of honing, spending a lot of time and money, improving the internal operations bit by bit. It will not enter its most mature state until 2021, and then burst into shocking power in the production of a new generation of laser masters.
Finally, with the efforts of all Otto staff, on June 28th, a new generation of laser masters - the unparalleled laser master 3 - was released. Compared with competing products on the market, it has achieved a full range of technological leadership, faster, smarter and safer.
Revolutionary sculpting experience
Lightning speed: Meticulous laser head optimization ensures the best results at 20,000mm/min; users can engrave at twice the speed of other laser engraving products.
Stable and Lightweight 10W Laser Module: Ensures high power output and cooling performance.
High Precision: With 0.01mm precision, the narrow bezel guarantees perfect engraving.
Powerful Cutting Capability: From 20mm wood to 30mm acrylic, the Ortur Laser Master 3's 0.05 x 0.10mm laser produces seamless cuts.
Quiet Operation: Upgraded stepper driver chip enables high torque, silent operation and sensorless homing.
Laser Explorer App: Professional and novice friendly, connects your mobile device and Ortur Laser Master 3 directly using an access point or Wi-Fi. Users can now print from the Laser Explorer application, eliminating the need for cumbersome software.
Smart Workflow, Easy To Use
For Ortur Product Manager Gil, user feedback is crucial, sharing that "our community keeps us honest and shows us where the future should go." Join Ortur founder Justin's feedback group for this feedback Combined, Ortur listened carefully and agreed that precise and user-friendly design was crucial.
The Ortur Laser Master 3 can now efficiently produce complex results, while the 5-in-1 behemoth features USB, SD card, mobile app, FTP upload and full webUI interface engraving capabilities.
"Our team's daily mantra is convenience and intelligence!" said Ren, Ortur's R&D team leader. With just 3 minutes of assembly and a few seconds of connection, users can take a photo on their mobile device to start engraving quickly. Comparable to Lightburn and LaserGRBL, Ortur's best-in-class "Laser Explorer" iOS and Android compatible app supports "instant" engraving, ideal for outdoor activities and commercial events.
Ortur's Firmware
The updated 2.0 firmware supports the latest IoT technologies, and the Ortur Laser Master 3 has a state-of-the-art ESP-Pro-v2.4 motherboard designed with a bidirectional I/O interface. From precise cuts of 0.01mm to ensuring that the grayscale levels of the photo are fully maintained, the Ortur Laser Master 3 ensures that the final result is perfectly depicted.
The Ortur Laser Master 3 can convert between YRR and Y-axis motors in a single stroke. New features of the Ortur Laser Master 3 include a custom LU2-10A laser module, a foldable focusing rod and an easy-to-use built-in air-assisted design. Additionally, users can expect continued I/O product releases that enhance the Ortur Laser Master 3's ability to control its surroundings.
Ensure Safety
You can get a quick overview of Ortur Laser Master 3 safety features here.
One-button full stop emergency switch, safety lock, abnormal motion detector, over power sensor, voltage/current monitoring and connection detection system ensure a safe user experience.<