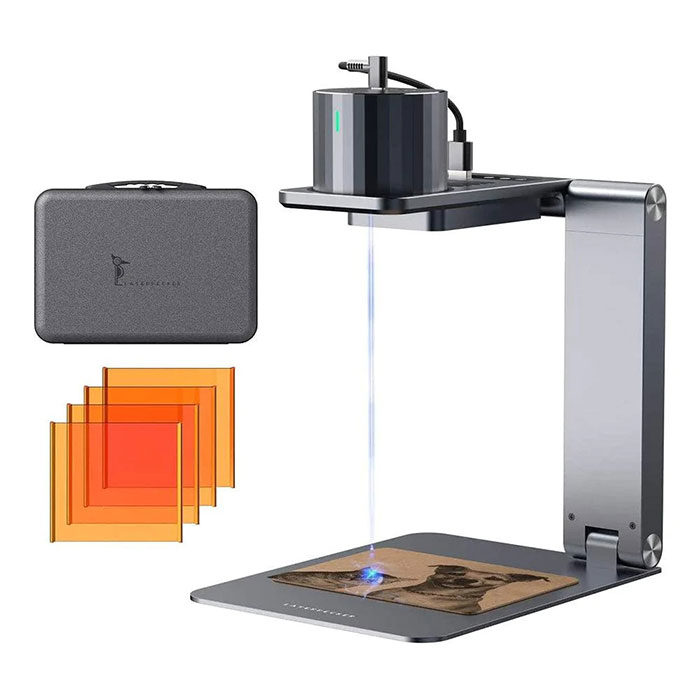 The laserpecker 1 pro portable laser engraver uses a 405nm blue-violet laser with a lifespan of over 10,000 hours.
LaserPecker recently announced the Pro version of its LaserPecker portable, affordable, and compact laser engraver. The LaserPecker Pro, which launched on Kickstarter earlier this week, surpassed its modest funding goal of $10,000 in just 14 minutes, and over $200,000 with just over three weeks left in the campaign. LaserPecker says their engraving machines can engrave images, text and patterns on almost any material (food, metal, plastic, leather, etc.).
Recently LaserPecker also released the latest LaserPecker 3 handheld portable home laser engraver, this machine is better than the previous two generations, LaserPecker 1 and LaserPecker 2, and the product is more powerful, upgraded the laser output power and put the laser spot again Reduced to achieve better engraving and cutting results
According to the company, "The LaserPecker Pro has been upgraded with an auto-adjusting stand that allows for setup and focus in seconds. All you have to do is place the engraving target on site. The stand's built-in sensor will measure the distance between the laser generator and the target. and automatically adjust the height to ensure the focal point is the correct distance from the surface of the object."
LaserPecker upgraded the Pro version of the laser from a 450nm blue laser with a 0.3mm spot to a 450nm blue-violet laser with a 0.15mm beam, which the company claims has an operating life of over 10,000 hours. The Pro is a plug-and-play engraver that can be used out of the box and can use a variety of power sources, including wall sockets, battery packs, and USB Type-C cables.
Using a smartphone app, users can upload their sketches, images or text and edit them using a range of tools with simple controls before porting them to the engraving machine. The LaserPecker Pro also has several built-in safety features, including a foldable laser shield and a motion detector that will shut down the machine if it detects unexpected movement.