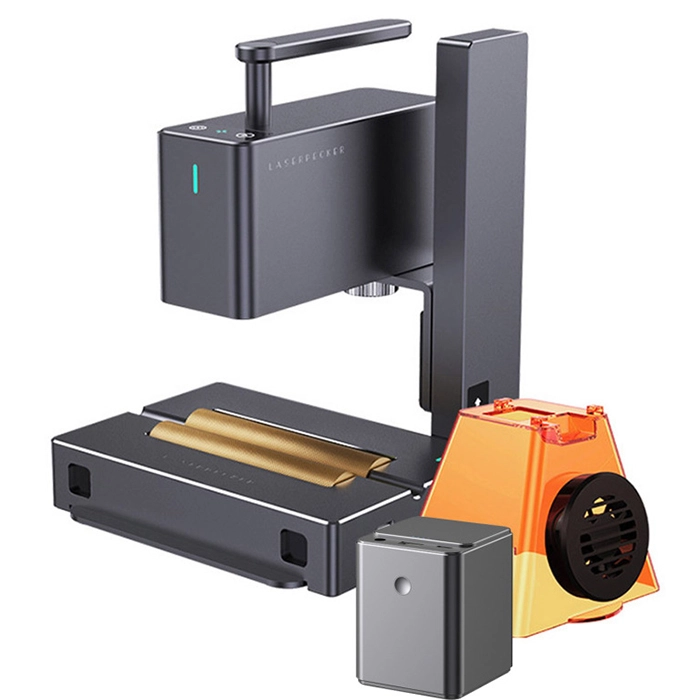 The LaserPecker quickly raised over $3.5 million on Kickstarter when it was first released, which shows that the engraving machine has been loved by everyone, and the LaserPecker 2 is now a hot seller on the HTPOW online store.
A fast 5W handheld laser engraver and cutter that you can take anywhere.
Laser cutters/engravers are usually very large machines because the entire workpiece needs to be able to fit within the work area. Add controllers, laser tubes, motors and linear guides and you end up with a lot of bulk. LaserPecker is an innovative laser cutter that launched on Kickstarter in late 2019. It has many unusual features that make the machine small, lightweight and portable. Now, the same team is back with the LaserPecker 2 laser cutter, which promises more features at a very reasonable price.
The LaserPecker 2 Kickstarter has been running for three weeks, but it has already raised over $3.5 million in funding. This makes it one of the most successful tech Kickstarter campaigns of all time. Regardless, the original LaserPecker was a very good budget machine. The new LaserPecker 2 is more expensive, but it introduces a ton of new features that are very useful to manufacturers. It is fundamentally different from conventional laser cutters because it has an open frame that can accept material much larger than itself, rather than encasing the material within a single housing. While this setup does have some potential safety issues that you should definitely be aware of, it does result in a more compact machine that's perfect for those who don't have the space for a big store.
The LaserPecker 2 and LaserPecker Pro 2 can be used in a variety of ways. If you have a small piece of material, you can simply place it on the machine's platform. A galvanometer mirror guides the laser light through the workpiece. Cylindrical objects can be placed on a clever rotating bed attachment that lets you sculpt entire surfaces. Large stationary objects can be cut by picking up the entire machine and placing it on a surface. Finally, the machine is able to "drive" along long strips of material using the auxiliary booster attachment, which enables you to engrave dimensions up to 100 x 2000 mm. There's even a 20,000mAh battery pack at your disposal, so you can use the LaserPecker 2 without a nearby power outlet.
Both versions of the LaserPecker 2 include a 5W 450nm NICHIA solid-state diode laser. This is relatively weak, but good enough to cut acrylic, wood and leather. The campaign also claims it can engrave metal. As far as I know, this is a very misleading statement. Lasers with this power level cannot engrave metal. What it can do is engrave anodized or painted metal, which really just evaporates the coating instead of actually marking the metal.
Picks aside, the LaserPecker 2 seems like a great machine. It has some very handy features that make using a laser cutter a more user-friendly experience. For example, it can project a preview of the non-cutting laser profile onto the surface of your material so you know exactly where it will cut. Control is done entirely from your smartphone, reducing the size and price of the machine. It even has motorized height adjustment to ensure the laser is properly focused on your workpiece.
If you want a LaserPecker 2, you can pick your favorite package now at the HTPOW online store and we'll arrange shipping for you as soon as possible.