This new 10W laser engraver has several great innovations, such as the addition of an XY axis extension kit, an interchangeable lens, accessory air assist kit and Sculpfun air assist pump, and if the price is right, it will be very competitive.
The news I got today is that Sculpfun released three new products through their official media, namely the low-end Sculpfun S30 with 5W laser module, the mid-range Sculpfun S30 Pro with 10W laser module, and the high-end Sculpfun S30 Pro Max with 20W laser module. The frame of these three products is the same, only the laser head is different.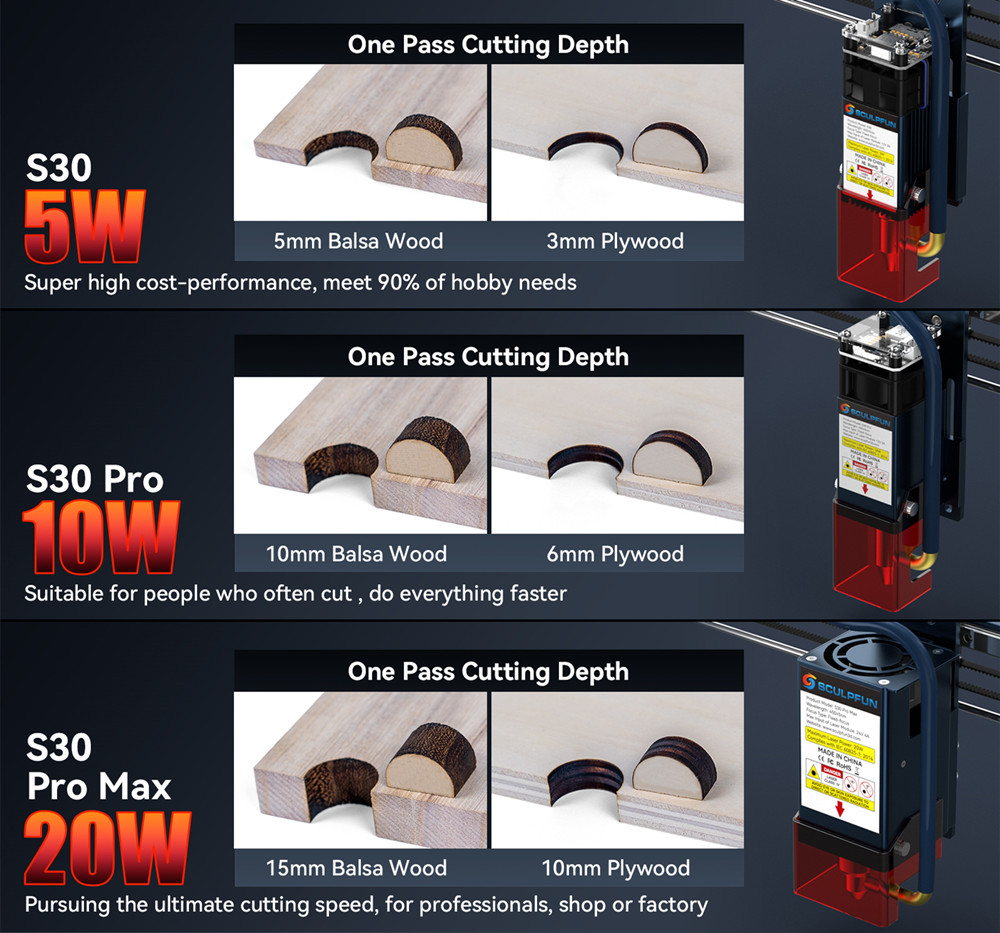 As the upgraded version of Sculpfun S10 laser engraver, SCULPFUN S30 series has the following points that deserve recognition, which are also the current points of concern in the desktop laser engraving machine industry.
Automatically Controlled Air Assist System
First of all, the whole S30 is equipped with air nozzles and air pumps, so that a complete air assist system is formed. As we all know, air assist is extremely helpful for both engraving and cutting operations.this makes the engraving and cutting very clean, and is very suitable for the manufacture of exquisite gifts. Secondly, the SCULPFUN S30 Pro Max laser features an innovative replaceable lens that greatly increases the life of the laser, more than 10 times longer than other general lasers. When the lens is damaged or after prolonged use, the lens can be replaced to restore cutting capability.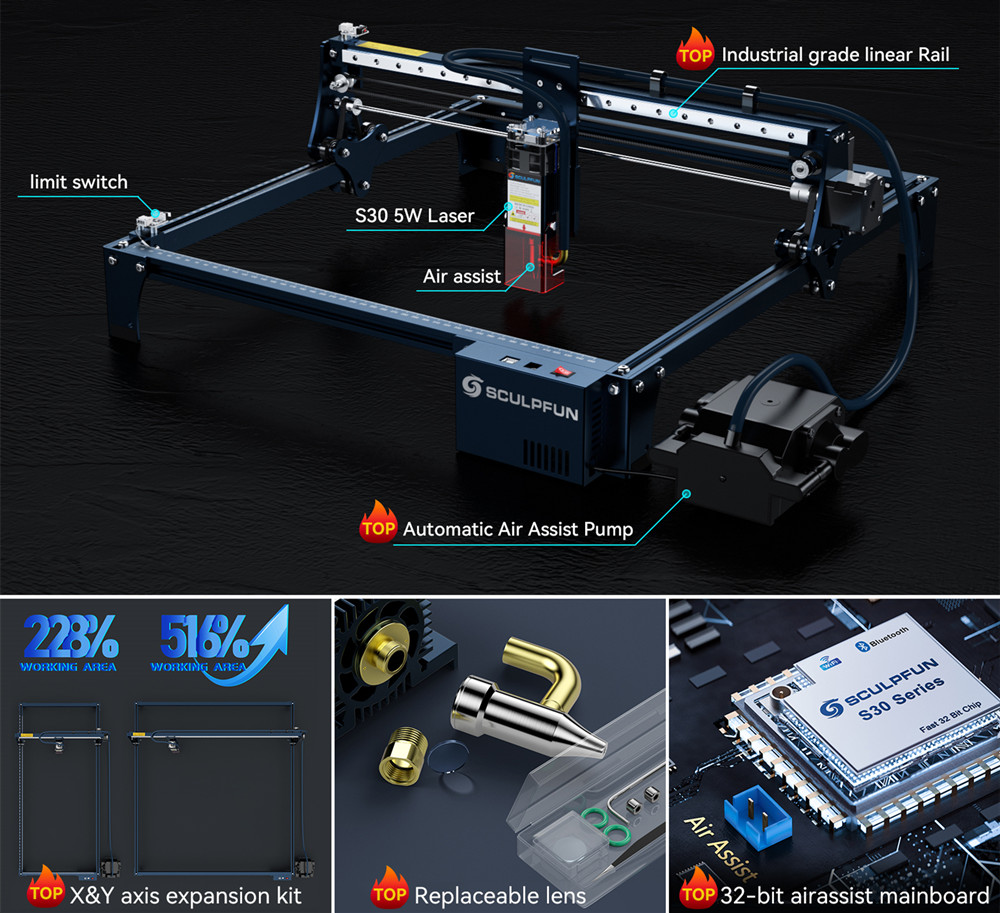 Expandable Engraving Area
Many manufacturers are now offering Y-axis extension kits, while the length of the X-axis is unchanged. SCULPFUN has now made an innovation in the S30 series by introducing a bi-directional XY-axis extension kit, so that the working area can surprisingly reach 935*905 mm, providing wireless possibilities for engraving large works.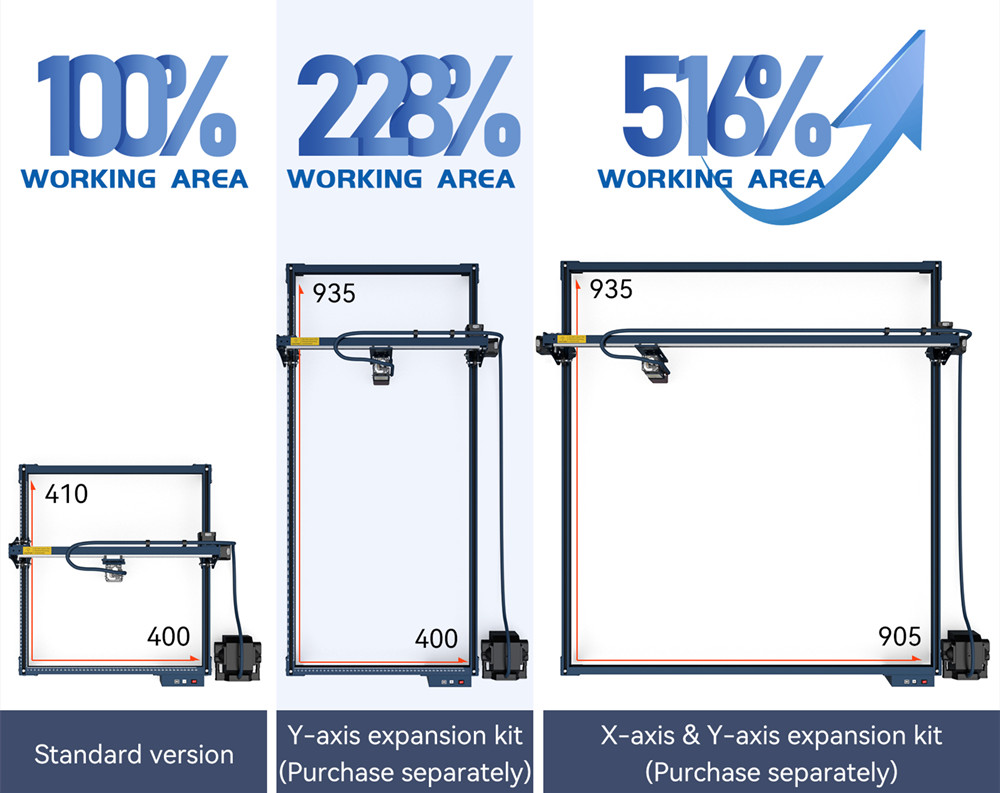 Ultra-thin 10W Laser
Adopting ultra-thin laser shaping technology, the laser focus of S30 is as thin as hairs and very powerful for engraving or cutting. The S30 Pro 10W laser is suitable for frequent cutting, doing everything faster.
Industrial-grade Cutting Accuracy
Extremely solid and high-precision 0.005mm linear slide rail X-axis make it reach industrial-grade engraving accuracy. When comparing small engraving details, the S30 series does not have the wavy pattern that appears in ordinary engraving machines.