What Materials Can Sculpfun S10 Engraving And Cut?
This laser engraver can carve a lot of materials, such as: wood, bamboo, cardboard, plastic, leather, PCB board, alumina, non-reflective, electroplating and paint surface layer metal, 304 mirror stainless steel, glass, ceramic, cotton, SLATE.
At the same time it is also a very powerful laser cutting machine, it can cut: cardboard, non-woven fabric, wood, acrylic, some plastic board, sponge, cardboard, all kinds of wood (including walnut, cherry and other high density wood), density board, bamboo, leather, PCB board etc.
You can use this laser engraving machine to cut things over 10 mm thick. The S10 laser cutter cuts wood very well, especially poplar plywood, which has a soft texture and is the wood of choice for all laser cutters.
Tips: Avoid plastic such as PVC and vinyl, because it will release hydrogen chloride gas when cutting. This gas is toxic and corrosive, which can easily cause your laser engraver machine to rust.
Software And Supported Formats
You can use the Sculpfun S10 engraving laser machine with the free LaserGRBL software, which works fine but is a bit clunky to use and is perfect for some tests, but I prefer Lightburn because it is more powerful and very intuitive to use. While it's not free, the app comes with a one-month free trial, and you can try it for a month before deciding if it's worth buying. For me, it's definitely worth it because it saves a lot of time.
With LaserGRBL, you can import vector files (NC, BMP, JPG, PNG, DXF...) And bitmap image files (bmp, jpg, png and gif),
Lightburn supports more formats: AI, SVG, DXF, PDF, HPGL, PLT, and RD for vector formats, and PNG, JPEG, BMP, TIFF, TGA, and GIF for image formats.
The vector format is the preferred format for these machines because it contains paths around the edges of the shape tracked by the laser head. Sculpting vector files is FASTER BECAUSE the LASER cuts THE path directly instead of scanning and dotting the bitmap image (photo) as a printer does.
You can get millions of free vector designs on the Internet, or you can get more technical drawings using free vector drawing programs like Inkscape or QCAD,
You can also import lots of vector designs and images from the free vector website, or you can purchase excellent laser designs on the website.
Power Scale
Our standard engraving pattern shows the horizontal engraving of the S10 at different speeds and different power Settings, so you can see the effectiveness of the laser beam.
The Sculpfun S10 has a very balanced power range. It is suitable for low and high power. And because of the air assist, the smoke stain is very little, the carving is very dark, the contrast is very high.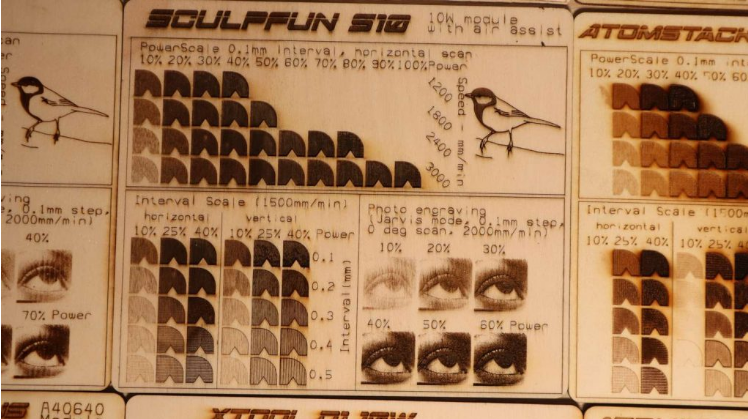 Laser Engraving of Different Materials
Acrylic Engraving And Cutting
Short tests were performed with and without air assistance on 3 mm thick black acrylic at 600 mm/min. Laser Engraving and cutting results are excellent, both times with clean cut edges. Sculpfun S10 was able to cut through 3mm thick black acrylic in 5 passes both times which is very good.
We also tried cutting black acrylic 10mm thick. It takes about 49 cuts at 600 mm/min without air assistance. But this time, without air assistance, the cut is hot and melted, and the cut is not smooth.
But when using air assisted laser cutting, the performance is greatly improved as it only takes 25 cuts! The cutting parts are not melted and the cutting surface is smooth.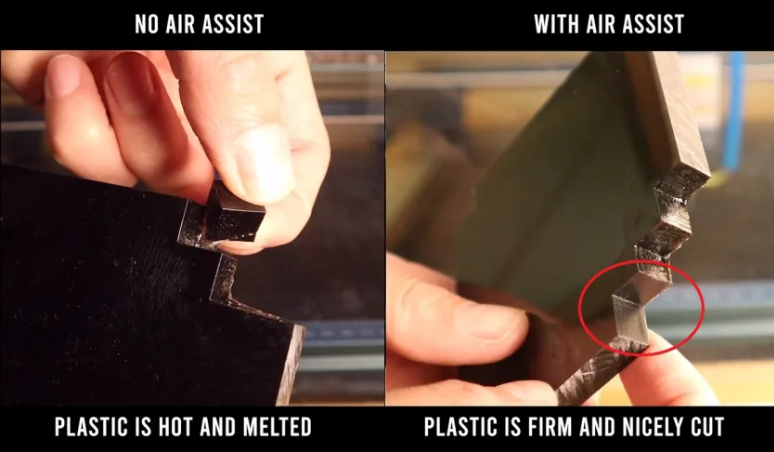 Plywood Cutting
Cutting 3 mm, 6 mm and 10 mm thick poplar plywood, which we tested at three different speeds, the test was carried out in two scanning directions - horizontal X-axis (left and right) and vertical Y-axis (back to front), because the cutting performance was different in each direction because the points had a rectangular shape.
We also conducted tests with and without air-assisted pumps to assess the difference in performance that can be made with air assistance. In the image below, you can see a visual comparison between cutting with and without air assistance. Air assistance makes a big difference when cutting thicker materials.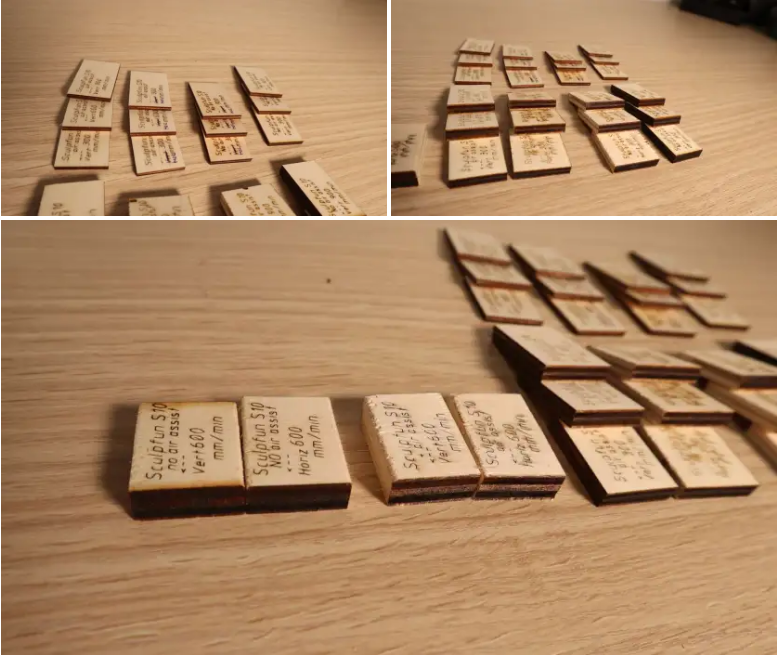 The Sculpfun S10 is a best laser engraver with fairly balanced cutting performance despite the rectangular laser focus.
Hardwood Cutting
The test shows that the Sculpfun S10 laser cutter cuts hard wood at 600mm/min. First we tried cutting 4mm pine, which was still soft. S10 has been cut 3 times.
We then tried harder and denser beech 3 mm and 5 mm thick. It still cut them, three passes for 3mm thick beech and four passes for 5mm thick beech.
We also tried to cut 5 mm thick oak, the S10 was cut 6 times. Interestingly, the laser engraves on the oak was much cleaner without air assist. This is the exact opposite of poplar plywood, which means you should always do some testing to see which material fits which configuration.
Engraving Stainless Steel
We tried to engrave text on blackened stainless steel (sprayed with cheap acrylic spray paint) at full power and 200 mm/min. Sculpfun S10 excels at engraving stainless steel.
Surprisingly,Sculpfun S9 desktop laser engraver has the smallest laser spot of all machines ,but it is a very powerful cutting/engraving machine, although with half the power of the others. It is the only 5W machine that can directly carve stainless steel.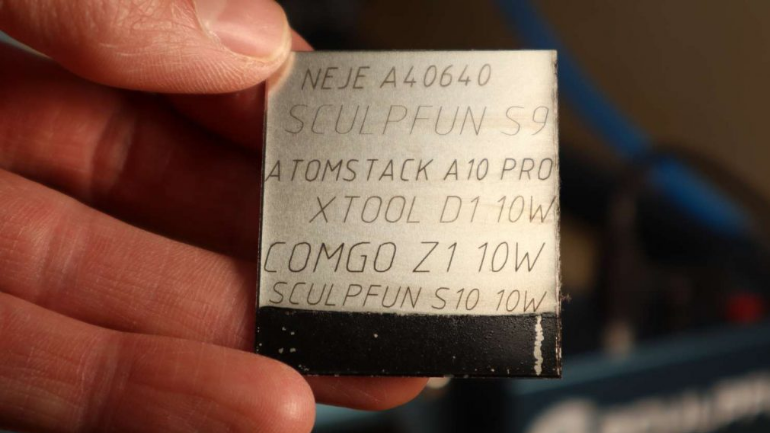 Laser Engraving Slate
Sculpfun S10 laser cutter and engraver can also engrave slate easily! Great for making custom gifts and coasters out of stone! The laser engraved was very deep, because the laser engraving stone will produce micro cracks, and will not wear out quickly!
Upgrades and Accessories
If you want to carve cylindrical objects, sculpfun laser rotary roller are a great choice!
You can also extend the work surface of this machine using the Sculfpun S10 expansion, more than doubling the work area.
We also strongly recommend the use of laser engraving machine enclosures to expel harmful air through Windows.
Conclusion
Sculpfun S10 is a powerful air-assisted laser engraving machine that is competitively priced and designed to last a long time with a very robust mechanical construction! Together with an air-assisted pump and a cellular table, this machine would make a suitable workhorse for a engraving laser fanciers or small business! It is worth buying!If you want to buy one,you can get it from HTPOW website,this is the biggest laser engraver agent,most famous brand of laser engravers are on sale.