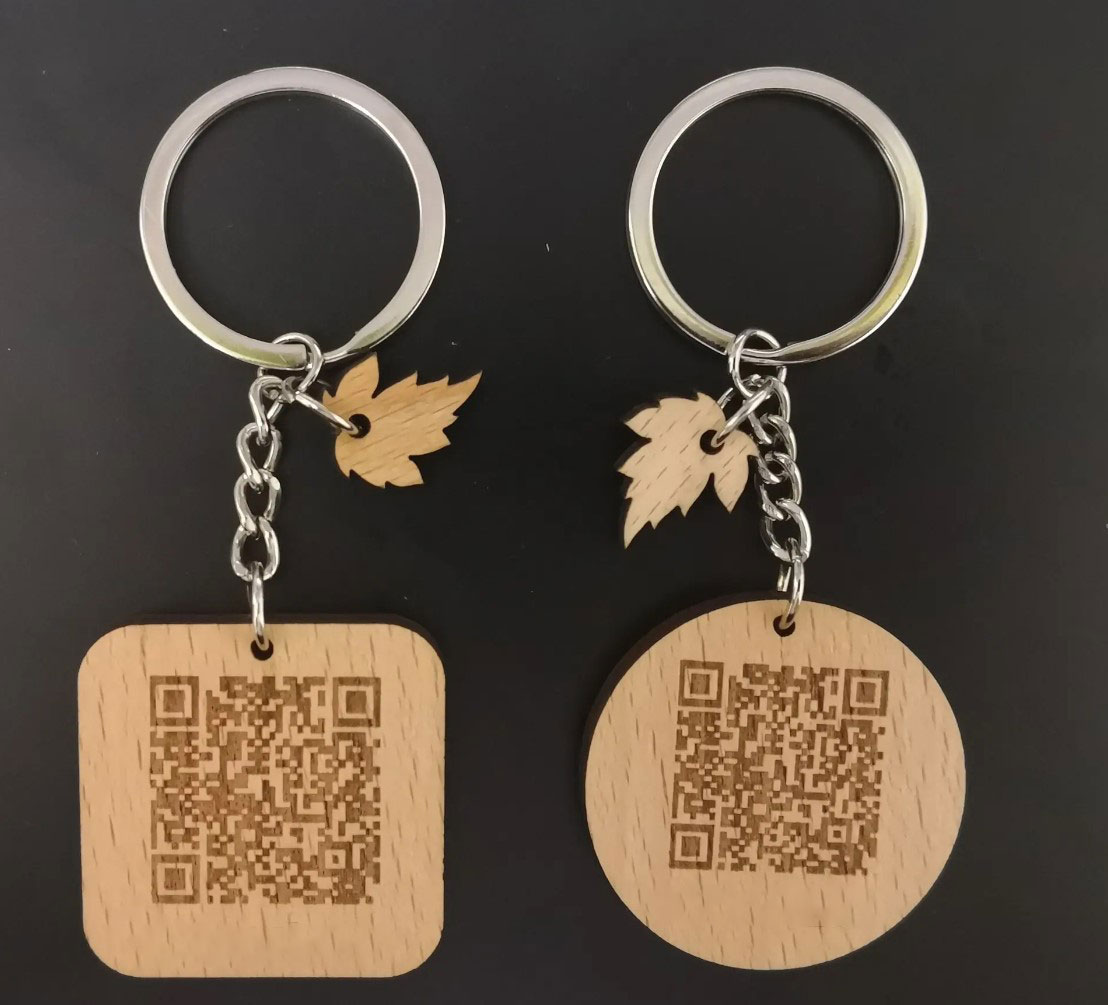 With Thanksgiving and Christmas just around the corner, many of us will be scratching our heads to find the perfect gift for that special someone. If you're like most people, you probably have plenty of easy-to-get gifts on your Christmas list that don't reflect what makes you special. You want the gift to be practical and something they will love.
Laser engravers open up a whole new world of holiday personalized gift ideas for you. With custom engraving, you can turn the simplest gift or idea into something personal, unique, and truly special. Most importantly, you'll know exactly what to get for someone who has everything or nothing.
To give you some inspiration, here are our top 12 laser-engraved gift ideas.
1. Laser Engraved Photo Keychain
Laser-engraved photo keychains are one of the coolest and most versatile gifts we've seen this holiday season. Today's laser engraving technology can be used to engrave photo-realistic images onto keychains that the recipient can take with them. Every parent wishes to have a photo keychain with a photo of their child. While the young among us are accustomed to using Facebook and Instagram to view photos of our loved ones, this simple and thoughtful gift can give your special someone a chance to see their beloved photo every time they unlock their house or start their vehicle, Keep them connected with family from anywhere in the world, no matter how far away.
2. Laser Engraved Keychain Clip
A simple wooden keychain holder mounted on the wall near the front door is something every home needs, especially those with multiple vehicles. The great thing about this project is that you can use simple laser engraving supplies from start to finish and get great results from the laser engraving process. Simply select the wood you want to use, create an outline for the desired shape of the keychain holder, and cut the wood to the perfect size, shape, and dimension. Then you can use the LaserPecker 2 to engrave your keychain holder however you want. Identify the recipient's artistic design and a few letters, a note like "Smith Family" or "Hang Keys!" and you can customize this versatile gift infinitely. When you're both finished carving, drill holes and add some hooks so the recipient can actually hang the keys on this gift.
3. Personalized Wall Signs
Every family needs to hang a sign in their dining room that says "Gather Together With Grateful Hearts" and it always helps to have some glitter on it too. Because a house is just a structure, it only becomes a home when you are full of love. The only way to welcome love in the midst of life's obstacles is to come together and share happy moments around the dinner table to push your soul forward.
4. Laser Cut Snowflake Ornaments
Christmas tree decorations make a great gift during the holidays. People only leave the tree for a few weeks a year, then take it off and store it somewhere until December the following year. A beautiful gift ornament will not only light up their tree this year, but every year when they take it out of the box again, it will put a smile on their face and remember the art and creativity that made them so beautiful gift-givers.
5. Laser Cut Treasure Chest
You can start with oak, pine, cedar, or any other hardwood, and today's laser engraver technology means you can choose to add nameplates or engrave initials or messages directly into the wood. Finally, recipients will have a personalized treasure chest where they can store trinkets, sensual items, laser-engraved jewelry, and any other items of their choice.
6. Wall decor for homeowners with kids
If you're looking to surprise a new homeowner with a home decor gift, you basically can't go wrong. If the new homeowner has young children, consider carving out an animal or balloon-themed wall art for the child's room. Kids absolutely love the stickers on the walls, it brings a lively and childish vibe to those blank walls.
7. Laser-engraved cutting board
If your family enjoys cooking and spending time in the kitchen, a personalized cutting board (or other kitchen equipment) is a great way to bring more fun to one of their favorite activities. Wooden cutting boards are easy to engrave with the recipient's name, a special holiday message, a poem or favorite quote about cooking, a shared recipe or a photo of the recipient's favorite meal! There's no limit to the creativity you can apply to this project - a wooden cutting board is essentially a blank canvas for laser engraving.
8. Laser Engraving BBQ Tools
If the person you're buying can't wait until winter is over so they can get outside and fire up the grill, a set of laser-engraved grilling kits is sure to add a little extra to the summer excitement. Everyone knows someone who lives for the summer, and a favorite thing to do is come home after a long day at work, light up a backyard barbecue, prepare dinner, and enjoy time outdoors.
9. Laser Engraved Decanter
If you have a whisky connoisseur at home, laser-engraved decanters are a fantastic and versatile gift option, adding an extra layer of customization to their favorite hobby.
10. Laser Engraved Paddles
On a recent trip to an outdoor store, I discovered that wooden canoe paddles can be purchased at very reasonable prices. Why not make a laser-engraved canoe paddle for someone at home who loves to paddle or doesn't have access to enough outdoor activities? The paddle can be installed inside as a decoration, or the recipient can take it to a remote location for testing. Inscribe the paddle with the image, name, and address of the recipient's favorite animal, in case the paddle is found in an emergency, or engrave a funny quote or quip on a camping canoe.
11. Laser Engraving Guitars
Laser-engraved instruments are simply cool. Who wouldn't want to have a personalized guitar, violin, or cello with their name on the front? For musicians, the ability to compose and perform music is a very special
12. Laser Engraved Kitchen Knife
When your relatives and friends can see the kitchen knives with exclusive customization that you bring to them every time they cook, they will smile and feel that cooking will be more delicious.
In today's life, everyone feels that they are very individual, so they like the unique part. Therefore, many people now have laser engraving machines at home. Whether it is to customize for themselves or to facilitate cutting and DIY creativity, it is recommended that you also have a LaserPecker laser engraving machine. Take it out when you want to use it, very portable and quick to engrave.
Of course, if you need other brands of laser engraving machines you can find them in HTPOW's online store, because HTPOW is a reseller of many engraving machine brands with good prices, such as xTool D1Pro, Ortur Laser Master 3, Scupfun S10 and Astomstack S20 Pro and more. You can buy with confidence, all provide a one-year warranty service and after-sales installation service.